Latest News
Jerusalem: Religious, National and International Dimensions
This week, Dar al-Kalima University College and Diyar Publisher released their fifth volume on Palestinian Christians, entitled Jerusalem: Religious, National and International Dimensions. The book, edited by Rev. Dr. Mitri Raheb, is part of an initiative launched in 2008: "Palestinian Christians: Strengthening Identity, Activating Potential."
Dar al-Kalima has conducted extensive research into the lives of Palestinian Christians living in historic Palestine and abroad in order to elevate the voices and experiences of the community. In the foreword of Jerusalem, Rev. Dr. Mitri Raheb writes, "Jerusalem is key to peace, the religious epicenter of the three monotheistic religions, and the geographic nexus of the mappa mundi."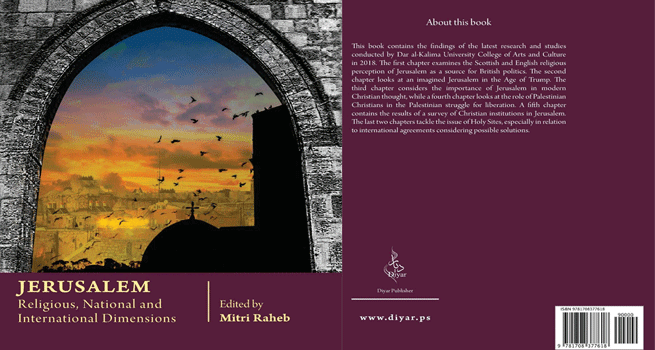 The book is part of the goal to reaffirm Jerusalem as a multicultural and multi-religious Holy City after recent political events in the region, including the movement of the American Embassy to Jerusalem by the Trump Administration. Dar al-Kalima conducted a research study of 61 Christian Organizations active in Jerusalem and held a three-day international conference that featured over 20 scholarly papers presented by experts from across the world.
Jerusalem: Religious, National and International Dimensions continues these efforts with chapters written by various authors tackling topics including Christians in Jerusalem, Jerusalem in the midst of modern political discourse, and the role of the Holy Sites in Jerusalem.
"Jerusalem remains the key to peace, an inclusive city to share between two people and three religions, a city with important international dimensions," Raheb writes in the foreword. The book is available now, and serves as a tool for both independent researchers and those seeking to learn more about the situation of Palestinian Christians in Jerusalem.
Top